Keep your contractors and workers safe with our roof walkway systems as they operate on elevated surfaces. 
We strive to save lives. Our mission? To secure your employees working at heights and on rooftops. Expect nothing but the best from our safe roof walkway systems.
Contact us today!
Specialist Roof Walkways for Your Properties, Workplaces and Worksites
We care about you using the correct workplace equipment that's both compliant and adherent to height safety regulations. Your employees'/users safety and wellbeing when using roof walkways is key.
Does your workplace site require safe roof access walkways? Let Austral Height Safety install the correct roof walkway systems for you.
Walkways are used to get safely to plant and equipment of buildings everywhere. They prevent unnecessary slips, trips and falls and make walking on roofs safer and easier for service trades carrying tools and equipment.
Contact us today!
Our Team
We take pride in who we are and what we offer to you:
Remarkable experience: over 50 years' construction and height safety expertise

Highly rated: amongst Australia's best service providers offering secure roof walkway systems

Direct dealings: on-site inspections

Sound safety advice: your security is our priority

Competitive offerings: some of the finest product ranges on the market
We'll provide you with the optimum roof walkway systems available. We're the experts, and we take your safety seriously. Trust Austral Height Safety to keep your staff safe. We'll exceed your expectations and help take your work to greater heights.
Need a roof walkway quotation?
CONTACT US TODAY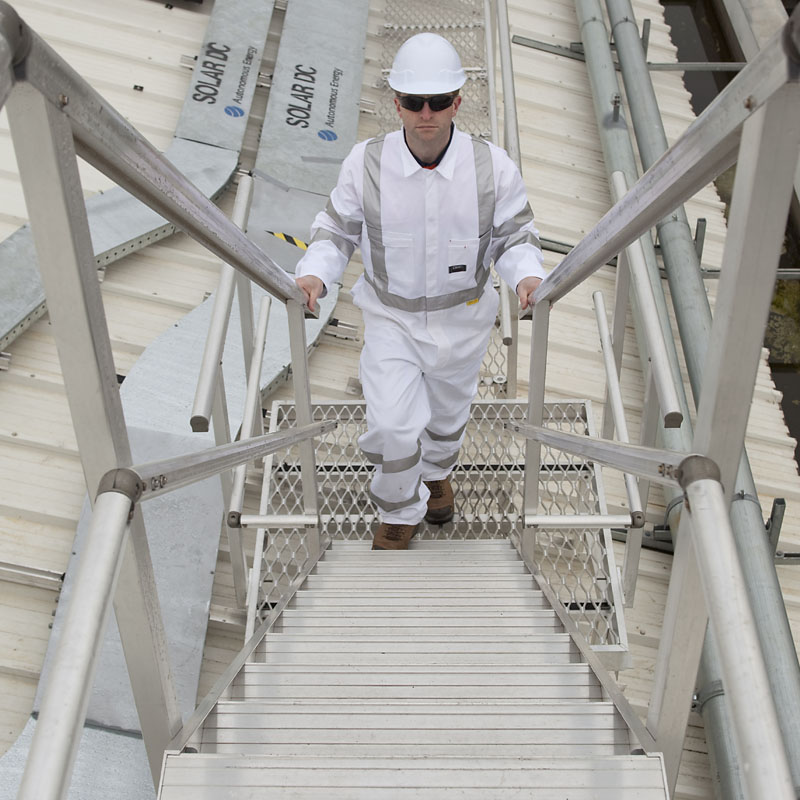 Transform Your Workplace Roof Walkways
Austral Height Safety workplace roof walkways are guaranteed to comply with the most recent Australian codes, regulations and standards. They're installed professionally and promptly with minimal disruption to your roof work and maintenance.
Our industrial walkways are reliably engineered safety systems. We use only the best aluminium roof walkways available and ensure that installed roof walkways are suitably applied to all roof surfaces. Protect your building's roof sheeting from unnecessary damage from foot traffic with high-grade aluminium roof walkways.
Contact us today!
Roof Walkway Features to Benefit From
Certified maintenance-free aluminium roof walkways

Controlled access to elevated workplace areas

Cost effective

Fall prevention and protection system

High-grade aluminium and fibre

Levelled or slightly inclined surfaces

Non-corrosive materials

Non-slip surface

Protection to your roof sheeting
Roof Walkway Examples to Consider
Pace600 GW8 Aluminium Walkway
Pace600 GW9 Aluminium Walkway – Levelled
On-Trak GW11 Fibre Walkway
On-Trak G13 Fibre Walkway on Battens
Contact us today!