Do You Need Permanent Roof Safety Rails? We Have What You Need.
Let our team install roof safety guardrails that will keep you secure and ensure the utmost safety for your whole team. Our experts can design, supply and install bespoke roof safety rails as a permanent and safe solution for fall prevention. Roof safety rails or handrails provide a physical barrier between workers and the edge of the roof or fall risk area, acting as a physical fall prevention barrier. These are one of the safest ways to protect people when working at heights.
We only offer roof handrail products that provide exceptional stability
Aluminium roof safety rails used for non-corrosive                                               

AS1657:2018 Certification on roof handrails and walkways

Roof handrail installation is done by our skilled installers
TALK TO US TODAY!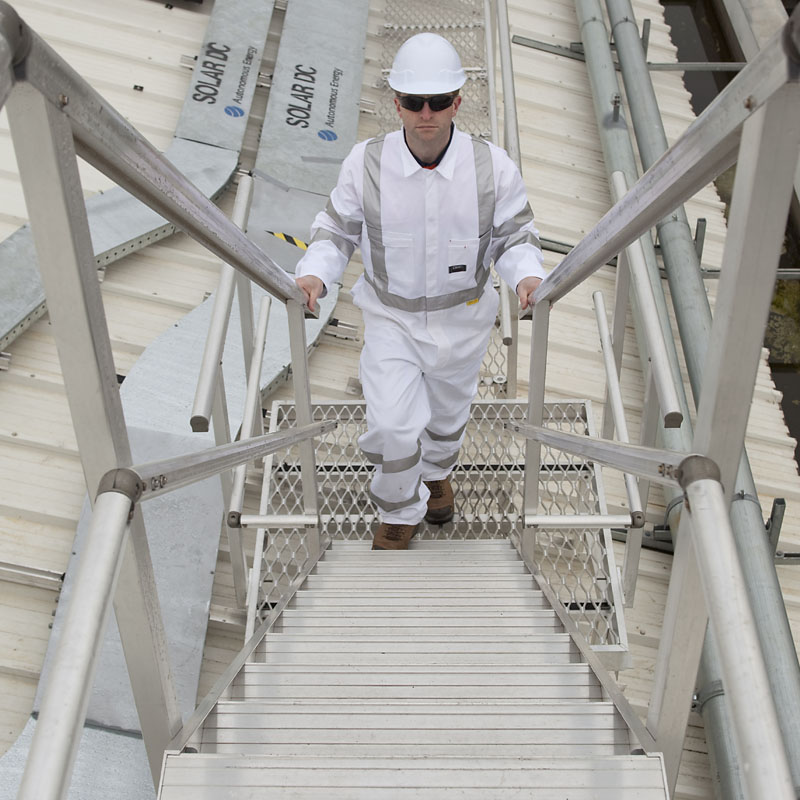 Roof Safety Rails That Can Withstand Harsh Environments
When working at heights you need reliable equipment and your roof safety rails are no exception. Not only must your equipment provide safety, but it must be durable too. Austral Height Safety has various roof handrail systems made from high-grade aluminium that can withstand the elements. The light-weight, high-strength construction of the roof handrails are adaptable and can be powder coated to suit your surroundings. Permanent and fold down roof safety rail options are available to suit your requirements.
Reliability When You Need It
When referring to the hierarchy of control – a system for eliminating or reducing risks in the workplace which ranks risk control methods from the highest level of reliability and protection through to the lowest – Roof safety rails and handrails are considered a higher control option when compared to other systems.
We partner with Sayfa Systems so that we know that our clients are getting the best roof safety rails and most reliable height safety products available in today's market.
The Importance of a Roof Safety Rail
A roof safety rail is important because:
They provide users working at heights with safe passage

Handrails or guardrails are a better form of fall protection as they are a physical barrier  

Roof safety rails prevent many accidents from happening

A roof handrail can block access to unauthorised areas
Who Needs Roof Safety Rails?
Remember, you must be compliant with all Australian Height Safety legislation on buildings and work sites. A roof guardrail must be installed in the following scenarios:
Areas with steep steps

Slippery walkways

Landing platforms

Accessible roof spaces

Walkway obstructions

Manual load carrying
If you're unsure about roof safety rails or whether yours meet height safety standards, we can help you with services and advice.
Austral Offers You A Complete Start-To-End Service
If you need safe roof walkways and guardrails our team of experts will install them for you. However, we are more than just a roof safety rail installer. Our team can offer you a comprehensive suite of products and services including excellent height safety systems and certifications. Our experts can perform height safety audits and inspections to help you determine where you require roof safety guardrails. Let us inspect, provide advice, do installations and certify your height equipment for you.
Get all you need in one place!
And what about regular maintenance for your roof safety rails? Talk to us and let's schedule a visit.
BOOK A SITE VISIT
Are You Ready to Install a Roof Safety Rail?
Don't let your company be at risk of unnecessary accidents or legal action against you. Install a roof safety rail that will keep users safe.
Our Sayfa supplied products will work on any type of roof and you can pick from permanent and fold down options—Let's make your roof handrail work for your aesthetic preferences. Take a look at our range of roof safety rail products and pick what will be ideal for you.
Austral Height Safety is ready to assist with your roof safety guardrail requirements.
ORDER NOW